Because I have taught fifth grade FOREVER, these standards were brand new to me in sixth grade. I have my masters in Math Education and I can DO these problems but I had no idea how to teach these problems. So I started to do some research and I watched some YouTube videos and I decided to start off with a hands-on approach using Chips and Cups. When students see x + 4 = 10, they know automatically that x = 6. When I asked the students why, I heard "I just knew 6 + 4 is 10" and "10 – 4 is 6 so x = 6" which are wonderful explanations however this example was easy. So I taught them the Chips and Cup method to show how we isolate the variable and solve for the unknown. I told my sixth graders that they will be doing this for years to come and that I want them to remember every time they "isolate the variable" and "solve for the unknown" to remember that I taught them that first! We used simple one-step problems because that is what my standard says to use. For fun though we tried a couple of two step problems and added "collect like terms". This was awesome for my advanced kids. But most of the time, we stuck to the standard of one-step equations. I used regular integer chips (yellow and red chips) and I got a bunch of little medicine cups from the nurse at my school to be our cups. After we used chips and cups, we also explored this same concept with algebra tiles. I think if the kids had to pick, they would pick chips and cups as their favorite.
You can get the Chips and Cups work mat that I made and used here for FREE!
When we moved to the abstract, I brought in something that I had found on Instagram! Sixth graders are all about Instagram and I had stumbled upon this really cool Instagram that integrated what we were learning here in class. This made the students look at me, #1: like a person, who may have her own Instagram (mind blown) and #2: Like a uber nerd, for finding math on Instagram! The Instagram is Solvemoji! You can find this online and on Facebook but I was trying to appeal to their world and make the lesson relevant to them by using Instagram.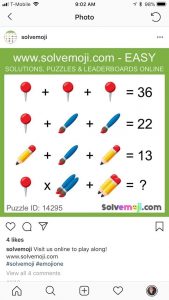 So I showed the students screenshots of how I follow, Solvemoji, and we tried to do an easy puzzle together. We discussed how this connects to our one-step equations that we are learning about. Students connected "collecting like terms" to collecting like emojis, they connected "isolating the variable by doing the inverse" to finding the unknown emoji. It was an awesome conversation!
We took it a step further by completing an Emoji Scavenger Hunt that featured one-step equations. I love scavenger hunts and the kids loved seeing the emojis pop up after scanning a QR code.
We all have those students who are done very quickly so I designed an extension activity much like the Solvemoji Instagram posts that allow students to problem solve and figure out a series of one-step equations. The scavenger hunt on my TpT store comes with everything you need to do this in your own classroom (minus the PicCollage). You can access the compete download HERE!
The next day, students used Piccollage to design their own Emoji One-Step Equation Puzzles! This was amazing! Students were so engaged and created their own puzzles with varying levels of difficulty! Here are some of their projects:
When we learned about inequalities we used our knowledge of equations as a basis on how to tackle an inequality. We went back to that same simple example and discussed what x could be; x + 4 < 10. Some said x was 6 while others disagreed and we had a great conversation and debate. Ultimately students agreed that the answer would have to be less than 6. Students used the same language we had been using for equations here with inequalities; Isolate the variable, collect like terms, use the inverse. Of course we added common words in our journals using a foldable that meant less than, greater than, less than or equal to and greater than or equal to. We also had to learn how to graph an inequality. One way we practiced this was using dry erase markers on our desks. If you have never tried to use dry erase markers on your desks, you are missing out! Kids LOVE it!
Finally, we completed a Google Project and a Digital Breakout as our big end of unit tasks. You can find the Google Project here on my TpT store.
The breakout is so fun! It features a magical emoji that appears when you enter in the correct answer on a Google sheet.
You can find the Emoji Escape Breakout here on my TpT store!
I love to see my activities in action, so if you are an Instagram user, please tag me in a pic! Follow me @themathchick5
Until next time!
Peace, Love and Math